years ago, I married my sweetie pie, after nearly 3 years of dating. This fall, we'll have been together 10 years! I can't even believe it! These 10 years have been so crazy. Never would I have imagined the path our life has taken. God has blessed us incredibly over our journey, and He has graciously grown us in faith, hope, and love. I'm so grateful for this wonderful man He gave to me. I love you, sweetheart! I'm copying
Emily
with this little meme: Year 1 (2003-2004): We got married. I followed Todd to Arizona, where he had moved 6 months earlier to take a job. We get a position with our apartments as a CARES team, which is a ministry program to encourage community and lasting relationships and provide opportunities to share the gospel with residents. We also add Lewis to our family! Year 2 (2004-2005): Todd spends our first anniversary in bed with pneumonia! Several occasions and general homesickness had brought us back to California multiple times in the previous year, but the reality that Arizona is "home" begins to sink in for Jen. Jen gets a job with Right to Life and Todd continues to receive promotions at work. We also begin to try to grow our family. Year 3 (2005-2006): We buy our home and decide to finally leave the church we'd been attending. A week later, God brought us to our wonderful church home, where we still are, today. Year 4 (2006-2007): Jen becomes an entrepreneur and begins Cafe Prima, which operates, with Todd's help, for two years as one of the web's most popular scrapbook supply stores. We later close it down as we begin adoption plans and do not want to continue the high time investment required. We also meet our best friends in this time and build a rich friendship and enjoy the fellowship of having "couple friends." Year 5 (2007-2008): We receive our diagnosis of permanent infertility. We adopt our babies and our lives are forever changed. We also spend a wonderful vacation in Hawaii, celebrating our 5th Anniversary. Year 6 (2008-2009): We travel to Michigan, 3 times! Todd loses his job that brought us to Arizona. God gives him the desire and resources to start his own company, and we adjust to the many changes that brings, and appreciate the extra time it gives us to spend with each other, and in ministry,. We spend much of the year with Mike and his family through his illness and we are grateful for the flexibility of self-employment. We also lose our first 2 children. Year 7: (2009-Present): We lose 3 more children and are expecting our 6th, the first we'll get an opportunity to meet on this earth. We've had some high highs, and some low lows, but God's character and faithfulness has remained steady through it all, and my sweet husband has stuck by my side in it all. Thank you for choosing me, Hunny. Marrying you was one of the best decisions I've ever made and I'm so grateful for you. I love you!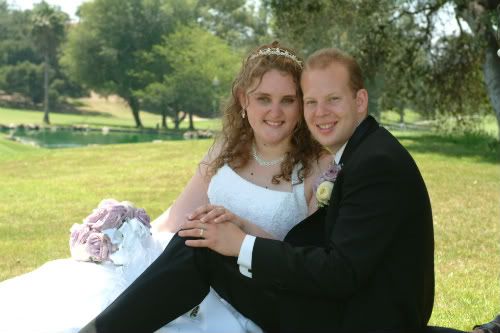 And on our Honeymoon: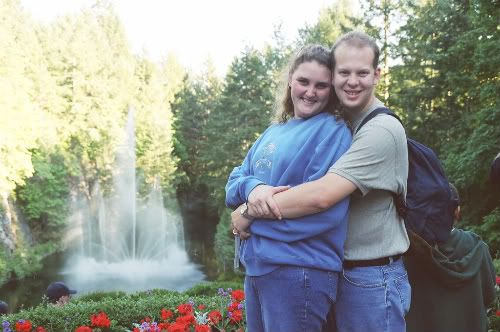 And the most recent photo I have of us, from March of this year, at another friend's wedding.