We're home! It's been a busy couple days but we're home!
We flew all day Saturday and met some friends for supper Saturday night. We had the worst hotel experience that night, trying to sleep between inconsiderate neighbors. After asking them several times to quiet down and asking security to ask them to quiet down, we finally asked for a new room at 2:00am. They moved us upstairs, to a room with the biggest bathtub I've ever seen! DH and I could practically BOTH go swimming in it. The room was much quieter and the big tub certainly helped us relax over the next couple days (when you're 6'2 and 6'4, a tub long enough for you to relax without folding yourself in half is a treat!)
The wedding was Sunday. It was on the St. Clair River shore under the most beautiful blue sky and against the most perfect teal waters. We found that in the hustle and bustle of moving rooms in the middle of the night, my camera battery was separated from the camera and so I had no camera at the wedding. DH was sweet and took me to Be.st B.uy between the ceremony and reception to get another one.
The reception was on a yacht and we sailed up to the Canadian border and back. It was one of the swankier things DH and I have ever done--it was very fun!
Here we are against the Detroit Skyline
And the Windsor, Canada border: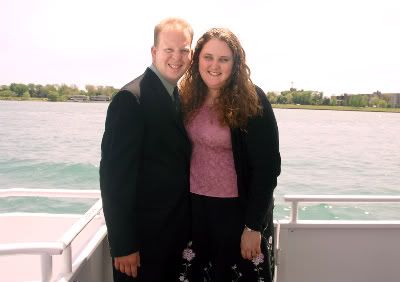 Monday morning we received a call early. When I saw who the call was coming from and what time zone it was for the caller, I knew it was big news. Our BFFs had their son (our godson!) late Sunday night. He decided to come a week and a half early. I'm really disappointed we weren't here to be at the hospital when he was born but as soon as our plane landed later that day in Phoenix, we headed straight to the hospital. He's perfect. 10 little toes and 10 little fingers. He's got the coloring of his daddy and some of the bone structure of his mommy. He's very quiet and he slept peacefully in my arms for a very long time and then slept some more in DH's arms. His mommy's labor went quickly and both mommy and baby are well. They all went home yesterday. I'm anxious for it to grow a little later in the day so I can call and see how the first night at home went.
After we got home from the hospital, SIL and her kids arrived to stay the night with us. SIL got violently ill--we suspect food poisoning and exhaustion because all the rest of us are fine, including her kids. So yesterday I got be cool Auntie Jen. We took the dogs for a walk, went to the park with the water feature, played in the back yard, swung in the hammock, worked on alphabet letters, made pizza and played Wii (on my nephew's top 10 list, I think). They're off to a week with grandpa and grandma now. SIL has spent much of the last couple days resting and I hope she can get a few more in. We feel so bad--starting vacation off sick is a major bummer! But hopefully without the kids here she can just rest all she needs.
We had our second to last class last night and we're off to our second to last homestudy visit here in a little while. Only 15 days til the visit here at the house! Whoa!
Gotta run. Want to attend to SIL a bit and then I have to hop in the shower and get on the road. TTFN!