There are some people who are truly good for your soul. Where your soul is better for having them in your life. Mike was one of those people for me. There are not a lot of people I really have that connection with, but I found it in Mike.
6 years ago, I met Mike. And I thought he was a jerk. He was rough around the edges, sarcastic, and generally just harsh. As a people pleaser who is rather gullible, I tend to not mesh well with that personality style. As much as I thought he was kind of a jerk, he probably thought I was uptight and high maintenance. So, for the first couple years that I knew him, our paths didn't cross much. In a sense, we were both a little bit right about each other. But we were more wrong than right (well he wasn't THAT wrong. I AM uptight and high maintenance ;) ), and I'm so grateful God corrected those first impressions.
Then, 4 and a half years ago, he got his first tumor. And something in him changed. He was the same Mike, but a softer version. He stopped trying to push everyone away and I stopped believing him when he tried. Beneath his tough-guy attitude and hard shell was a man full of humor, honesty, and humility. And we became fast friends.
Mike came through the first surgery with flying colors and soon they were on their way to adopting sweet little Skyler, the 3.5 year old love of my life. I remember we held a co-ed, all church shower for them when Sky came along, and Mike and Todd had a food fight in the middle of it. Mike was really the only one who could get away with a food fight in church.
As the years went on, God continued to soften Mike and Mike began teaching me and everyone around him about what it means to suffer with grace. He repeatedly said over the last several years that God was more concerned with his sanctification than his physical health, and that he was going to trust God to work as He saw fit. He was constantly reminding those around him to believe the character of God when our circumstances tempted us to doubt His goodness. Mike and his dear wife Krista handled this journey with such unwavering strength, and far better than the rest of us around them. As Mike's illness increased, so did his faith.
Last November, when we were approaching our second transfer, he said "this is as important to me as it is to you. I want you to relax, so I'm getting you guys a hotel room in Tucson [where our clinic is] so you can relax and not have to drive the morning of." For various reasons, we didn't take him up on his offer, but how much of a priority he made it really impacted me.
When we got the call that our transfer had failed, Mike happened to call me literally less than a couple minutes later. Of course I was hysterically crying and he wanted to know what was wrong. I told him and he asked what he could do and I just asked that he and his family be at church the next day. He came in and sent sweet Sky to hug and snuggle me, and then during the Sunday school hour, he just sat next to us and held us while we cried. I told him this week that I would loved to have been a fly on the wall in the room when he introduces himself to our first 5 babies as their crazy Uncle Mike. While I would have loved to have met them myself, I don't mind sharing them with him.
Mike was a big part of the reason I finally became not only comfortable with open adoption, but a strong advocate of it. Skyler's story is a rocky one--he should have been a statistic. In terms of the way the world thinks, his mother had every reason to abort him. And then there was every reason for the pregnancy to fail. And then every reason for Skyler to be born with problems. And every reason for the adoption to fall through. And every reason for Mike and Krista to be concerned about letting his birth mother too close to them. You know when people say "I don't believe in this or that except in cases of this." Well they had those "exceptions" at every turn. And yet, Mike had such a wonderful compassion. As far as he and Krista were concerned, they were taking both Skyler and his biological mother into their family, and their role was to be a ministry and blessing to both of them. They took the scary part out of open adoption for me. They loved in the middle of one of the most difficult combinations of circumstances, and loved without fear.
Mike and Krista have taught me a lot about the kind of parent I want to be. They have 3 really,
really
terrific kids. These kids are so full of love and joy and compassion and confidence and wonder. And I think the way Mike and Krista raise them is a huge part of that equation.
Mike had a huge heart. My own brother has had a rough couple of years. That just wasn't acceptable to Mike, so he was constantly trying to reach out to him and frequently asked me about him. He just had this giant heart for people, even those he hardly knew, or didn't know at all.
What I originally believed to be roughness or harshness, was just Mike being authentic. He had little patience for small talk and the superficial. He was a "say it like it is" kind of guy, and wasn't afraid to tell you when he thought you could stand to evaluate your opinion, behavior, conviction, etc. But he never used his honesty as an opportunity to be unkind. He truly mastered "speak the truth in love."
He was such a rascal. He used to call me on my cell phone just to chit chat and harass me. The gullible part of me has never gone away, and that made me one of his favorite targets. When he couldn't make it to church on Sunday mornings, he'd try to call or text me, just to see if I remembered to turn my phone off, thereby ratting me out to the whole church if I'd forgotten. Today someone's phone went off in church and for just one second, I forgot he was gone and thought that might be him. I walked into his traps without fail, every single time. But, it always brought me such great laughter. He had this dry wit that was so clever and subtle and completely effective.
We lost Mike in bits and pieces but several things continued to remain, among them being his compassion. One night before one of his surgeries this year, we spent several hours with him in his hospital room. And we talked about faith and God and love and family. And he spent at least an hour witnessing to and blessing the caregiver assigned to him. The remarkable part is that he didn't remember this occasion at all. Even when he was apart from his mind, his heart remained focused on Jesus. Strip everything away and take away all abilities to mask and pretend, and you see what remains. In Mike, that was a deep love for the Lord, and for people.
Mike was the closest thing I have had and will ever have to a big brother. He was everything I always imagined a big brother would be: loving, kind, protective, silly, challenging and rascally. He gave me so many wonderful gifts: lessons of love, kindness, and humility; a wonderful friend in his wife Krista; a close relationship with his three darling children whom I adore and who bless my soul so much; and most recently, 3 new sisters. He told me often that he wanted me to be friends with them, but as they all live far away, we'd not had opportunity to meet before.
As Mike was in hospice this week, Krista invited his friends to visit him. As he grew weaker, she began restricting the visits to just family. They were all so kind as to include us, and not only did they include us, but they checked on
our
well being in dealing with this. And it was such a gift to be around them and get to know them as well as we did because in each of them, I see a different part of him. Sisters, I don't know if you're reading this, but thank you. Getting to know you has made losing him a little more bearable. Thank you for letting me in this week. You gave me such a sweet gift. I love you all.
I still can't really wrap my head around the fact that he's gone. We went to see him the night before we left for vacation, and while he wasn't himself, we just thought it was a bad day. There was no indication that we'd be saying goodbye to him a week later. I am disappointed that that last visit was so difficult--I would really have loved to have had one last "real Mike" visit. But I'll always cherish all the others I did get, which I know are far more than many others were privilege to, so I am trying to hold on to that. And I love that if we were going to be on vacation, that we were in San Diego. He loved San Diego.
I'm a do-er. It's how I cope. So when the opportunity came for me to bless Krista by taking care of the memorial service, I took it. I had the honor of planning and coordinating the service and reception, selecting the participants in it, making the arrangements for the military honors, and creating the photo slideshow. He passed away on Friday, and the service was today, and we had church all morning, so getting everything done in time demanded almost round-the-clock work. And as much as his family has been thanking me for what I did, it was as much a gift to me to be able to do it. More than anything in times like this, I want to be useful. It was such a joy for me to really be able to pour my heart and soul into honoring this man and helping others honor him too. It was a privilege to take that burden off of Krista and his sisters. He looked at me very seriously recently and asked me to make sure I took care of Krista and the kids for him after he was gone. At the time I told him I didn't want to talk about it, and as much as Krista is one of the most capable, strong women I know, I felt that by allowing me to do this, they gave me the opportunity to begin or try to make good on his request of me. And quite honestly, it was a gift to me to have a distraction. I honestly didn't have time to sit down and really think about how hard this is, and I'm so grateful for that because when I do think about it, it overwhelms me. Having that "safety zone" of distraction while I gained some chronological distance from his death has been so helpful.
Now that the work is all done, it's harder. Last night after I finished everything that could be done in advance, I broke down because there was nothing to do except sit and think. It woke me up this morning. After the service was over, I came home for a little rest, and couldn't sleep because of my thoughts. And tonight, I'm just flooded with memories and nostalgia and heartache. I hate this quiet. This is where I really have to work at being still (ironic, isn't it?).
The memorial service went well. We had a wonderful turn out. Mike impacted so many lives. We had full military honors, with the flag presentation and the 21 gun salute. I think he would have been especially proud of that. People stayed for hours afterward just visiting, reminiscing, and loving on his family.
After everything was over, Krista invited the family back to her house, and she included us in that. As we sat around watching the flurry of activity and people laughing and loving on each other, Krista said "Mike left me with this amazing gift. Look at all these wonderful people!" And Mike would have loved it--all his favorite people, hanging out and just enjoying sweet fellowship in blessing each other.
I'm so grateful God was patient with my judgmental first-impression, and gave me a second chance to forge a friendship with this remarkable man. I've learned so much about who I want to be as a Christian, wife, mother, and servant. I've been challenged and humbled. I've laughed harder than I ever have before. I've fallen victim to more pranks than I can remember, and I have buckets full of sweet, sweet memories.
Goodbye, brother. I love you and I miss you, so very much.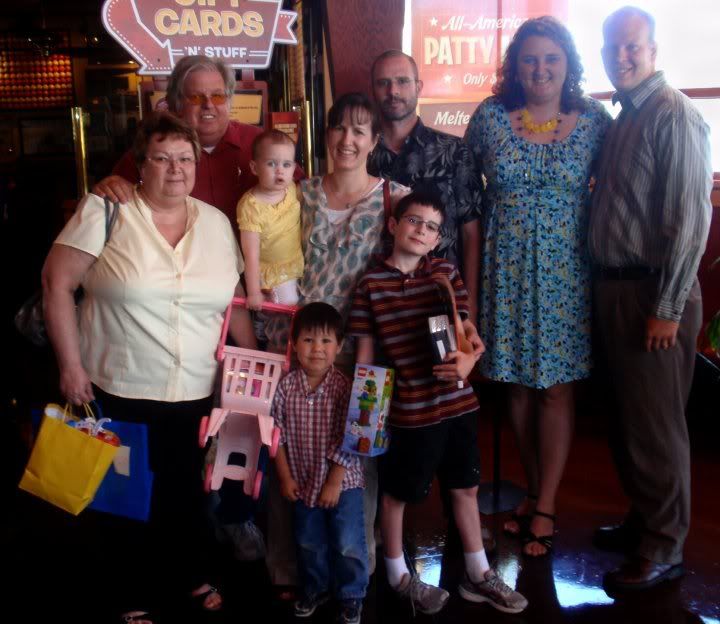 The above picture is us, with Mike's family (Mike is standing next to me), and one other family from church. Our 3 families together make up one larger family, that Mike affectionately called the WWF (the first initials of our 3 last names).
PS: A huge number of wonderful people helped me with the memorial service, and I give you my sincere gratitude for your help in honoring Mike. I could not have pulled this off without you, and could not have honored him the way you did. I have to give a special shout out to my friend,
Brenda
who didn't even know Mike, but who brought a friend to set up the food and keep things refreshed so that none of us had to miss any part of the service or reception. My wonderful Mother-in-Law was going to do the same. Illness prevented her from coming, but the willingness to help was a blessing just the same. Thank you to all of you lovely ladies. You really gave me a precious gift in preventing me from having to miss anything.