Hi everyone,
DH and I have just returned home from one of the best vacations we've ever had.
A few years ago, after DH was working entirely too hard for entirely too many hours, we decided to make it a priority to take a vacation every year. It didn't have to be fancy or extravagant, but we had to carve out a couple of days where our only priority was spending time together-no work, no household duties, nothing--just time together. So we have a little budget category for vacation that we save for.
This year, with the significant change in our income, it was tempting to eliminate that category from the budget all together. But knowing how much that time away refreshes us and draws us closer, we wanted to try to do it if at all possible. But we couldn't take the long-length, long distance trips we've taken the last couple of years.
It so happened that one of our groomsmen from our wedding, who now lives in Michigan, was going to be in San Diego. We wanted to get over to see them (San Diego is much closer and more doable than Michigan) so we decided to roll it in to one trip and do our vacation there. We had to do it on a very tight budget, but it ended up being one of our favorite trips we've taken. And it accomplished its purpose perfectly-we came home rested, closer together, and ready to go back to "real life" again with a renewed energy, direction, and united front.
We got creative so I thought I'd share our tips on how we tried to keep costs to a minimum:
*Picked a destination within driving distance. Gas prices are not at an all time low, but they're certainly more affordable than they've been in recent years. We spent about $100 in gas-much less than 2 round trip air tickets. We do have two free plane tickets, but we're saving those to visit friends later on where we can fly and stay for free.
*Planned our trip for weekdays-hotels are less expensive and attractions are less crowded, maximizing our bang for our buck
*Scoured the internet for days searching for the best rated budget hotel that was off the beaten path, and that offered a refrigerator in room. We found one that was clean, quiet, safe, and well reviewed that was less than 20 minutes from all the places we wanted to go--far enough that we didn't have to pay "convenience" pricing.
*I packed our mini (4 cup crock pot), steel cut oats (79 cents per pound), cinnamon, jam, juice, yogurt, flax seed, clif bars, cans of tunafish, bread, light mayo, relish, string cheese, carrots, fruit, nuts, bottled water, pop and gatorade, rice cakes, and goldfish crackers, along with a sponge, soap, a can opener, a measuring cup, a couple of tupperware containers, plastic bowls and silverware, a dish towel, napkins, ziploc bags and a big cooler. Though the hotel offered a free breakfast, it consisted of coffee and pastries (we called ahead to find out). That lasts about 10 seconds in terms of sustenance and energy, not to mention is full of empty calories. Every night before we went to bed we turned on our little crockpot full of oatmeal and in the morning we had a full, protein rich breakfast of steel cut oats with flax along with fruit and juice. We carried Clif bars with us all the time so we wouldn't need to buy snacks at expensive attraction and beachside shops. We made sandwiches and packed our lunch every morning and put it in the cooler in the car. We'd use the icemaker at the hotel to refill the cooler. All the other groceries stayed in the fridge in the room. We chose Tuna because it's also high protein, and it's very affordable. At the themepark we left it all in the cooler in the car and went out at lunch and ate out front and then reentered the park. We ate tunafish sandwiches on the drive, too-more nutritious than fast food stops, as well as faster since we didn't have to detour anywhere to get it. Though we had high protein meals, we also had some snacks available so if we wanted them, we had them. We didn't have to buy a single beverage, anywhere. That alone saved a ton.
*We scoured the internet for coupons on the attractions we wanted. In the end we decided on Sea World, and I was able to find a coupon code for $15 off admission each if we bought the tickets in advance and printed them at home.
*We did allow ourselves to go out for dinner each night, but we looked up restaurants in advance so we knew the menu and price range and could plan accordingly. We did not allow ourselves to go to restaurants that were any more expensive than something we would choose at home if we were living "normal" life.
*We chose one paid attraction (Sea World) and then filled the rest of the time with free attractions-walking around a beautiful historical hotel, watching Sea World fireworks another night from a neighboring parking lot, visiting the beach, playing card games, swimming in the hotel pool, etc, etc.
Overall, we had a wonderful, relaxing, refreshing time at a fraction of the cost of the vacations we've taken previously. Just because we couldn't go "all out" didn't mean we couldn't make some great memories. And hey, who else can say they travel with their crockpot?
The color in these looks funky-not sure why. These, and other pics, are also on my FB page and they look fine there. If you're my FB friend, look them up there!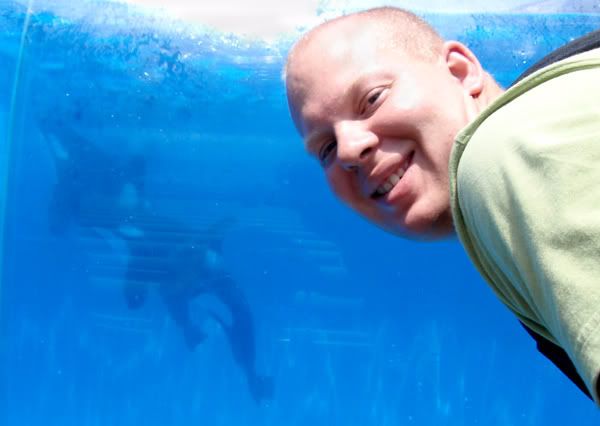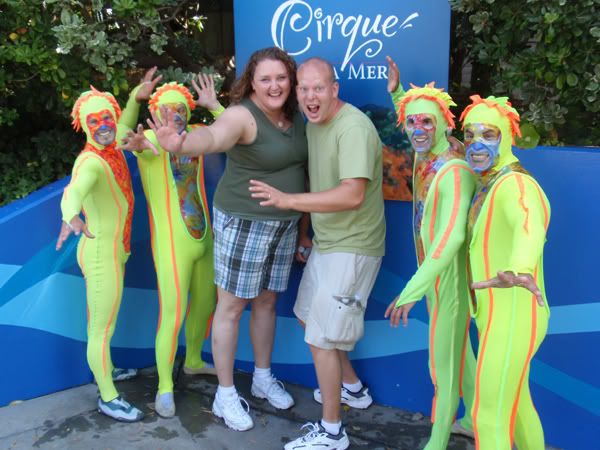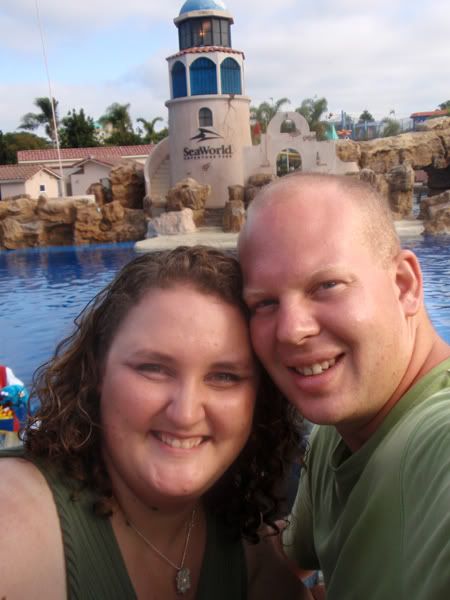 Before our trip, our best friends were here from Chicago. It was bittersweet because they were here to clean out their house and move their stuff because their house here finally sold and they finally got a home in Chicago so they no longer need to live in limbo. This really cemented the move and removed the possibility of returning to live in at least the near future, which was tough for me and K, especially. I think the guys came to terms with it a long time ago. But in any case it gave us an excuse to have 2 weeks with them, which was great.
Visiting this great little homemade ice cream sandwiches shop--definitely not diet friendly, but very fun...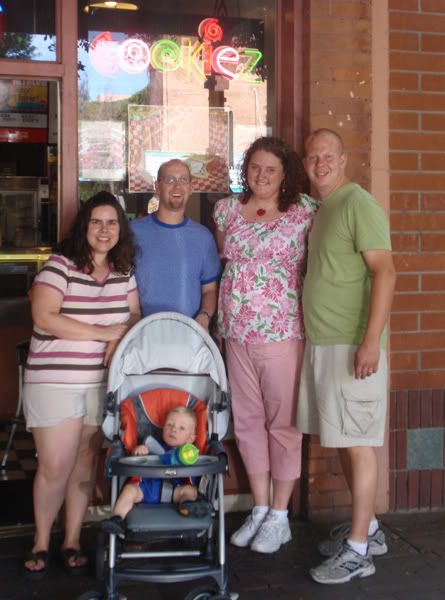 Lastly, our embryos arrived safely yesterday in Tucson, meaning we are forever done with the awful clinic here. It's a huge sigh of relief to know that neither me or my children are in their (incompetent) "care." We're still proceeding full speed ahead with plans for a November-ish transfer and this was the last detail to take care of. Now all we have to do is wait!
Thanks for checking in. I pray you all are well!