Mike is still hanging in there with us. We spent most of the day there yesterday. Today I've got a wicked headache and I want to accomplish a few things around the house while DH works and then we'll go over. So, I've been distracting myself with processing vacation photos. If I constantly think about how much this whole situation stinks, I'll go nuts. So, without further ado, a vacation recap.
We left on Wednesday afternoon at 3:30--1.5 hours later than our intended departure time, but still early enough to get a good night's sleep in San Diego and wake up with a whole day on Thursday. Well, that didn't go exactly as planned. Between potty breaks and puke stops, the 6 hour drive took 8 hours! Guess it was good practice for vacationing and road trips with a kid! By the time we were checked in, unpacked and ready for bed, it was nearing 2:00am so we spent most of Thursday morning just being bums and sleeping in.
We stayed in
this
darling little hotel. I called in advance and requested an upstairs room, explaining that I'm a light sleeper. The woman who took the call was so nice. She not only put us upstairs, but she found THE quietest corner on the entire property. It overlooked the pool and it was set back in a little from the rest of the rooms, creating this cute little patio (the only room in the whole hotel with one), complete with picnic table. The hotel was one of the cleanest hotels I've ever stayed in. I saw them regularly washing down the patio furniture, trashcans, pool deck, etc, and our room was spotless. The room included a microwave and mini fridge, so I took the opportunity to pack food for us. I brought our little mini crock pot, and my sandwich maker that doubles as a griddle. We had fruit and either oatmeal or french toast every morning for breakfast, and paninis with crackers and veggies for lunches. We only ate out one meal a day, which helped with the budget. And since we both love Mexican food, that meal out was whatever hole-in-the-wall taco shop we could find, so even that was cheap. Phoenix has good Mexican food, but it's got nothing on San Diego!
DH laughed initially when I had an entire suitcase and cooler packed with food and when I unloaded it into the "kitchen" but I think he's sold on my way of vacationing!
Thursday afternoon we had the wonderful chance to meet up with one of
my dearest friends from college
, and his wife. They just happened to be in San Diego too. His work has brought him to Phoenix several times over the years, but it's been forever since we got a chance to see his wife. They're expecting too, and are just 1 month behind us. So she and I shared pregnancy stories and the guys commiserated a bit. Visiting with them was definitely one of the highlights of our trip. We hung out in Seaport Village, which was much prettier and cuter than I remembered. I'm totally bumming though, as I did not get a photo.
After we parted ways with Dave and Jenn, DH and I debated on what to do. We drove by the Gaslamp district but, as a baseball game had just let out, it was super crowded. We felt like we'd had our fill of Seaport Village, so we decided to head to
Balboa Park
. I spent the first several years of my life living in San Diego, but I guess I'd only ever been to the kid/playground part of Balboa Park. I had no idea or recollection of how breathtaking it is there. We spent hours just getting lost in the beautiful architecture and gardens.
DH took this one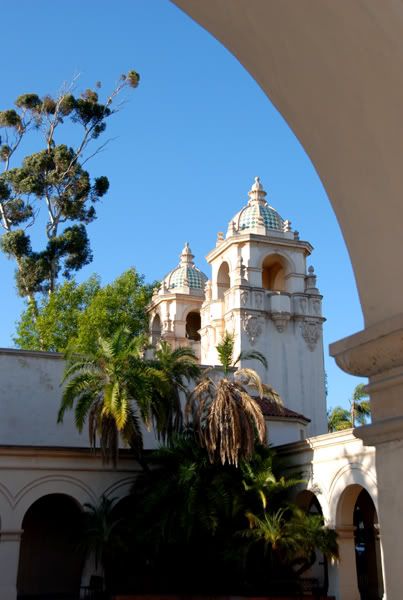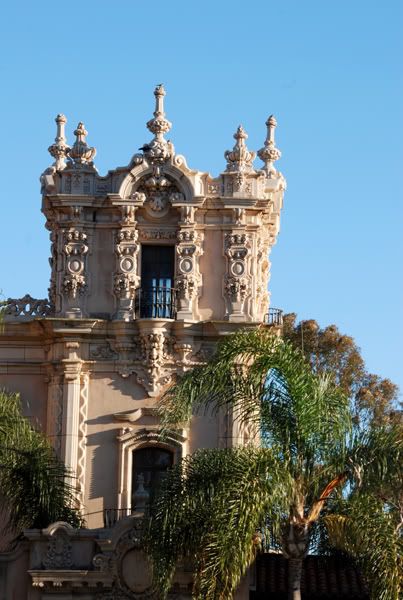 I sat down to rest my feet and DH took the camera and walked away. He called my name a bit later and when I looked over, he snapped this.
After walking all over the park, we were ready for dinner so we stopped a local and asked for a recommendation for some good Mexican food. He directed us to
El Zarape
. It was this tiny little hole in the wall--our favorite kind of restaurant. It was crawling with people, so we took that as a good sign. We were not disappointed! The food was awesome!
We also got a call that night that my best friend had just given birth to her baby! It was a great day of celebration!
The next morning, we stayed in again, just relaxing and napping and watching TV. In the afternoon, we ventured over to
Coronado Island
, which is home to what is becoming one of our favorite beaches. We walked around part of the little town and up and down the beach. We did go in the water, but it was 61 degrees! DH toughed it out longer than I did, but neither of us lasted long at all. I've truly become a desert rat!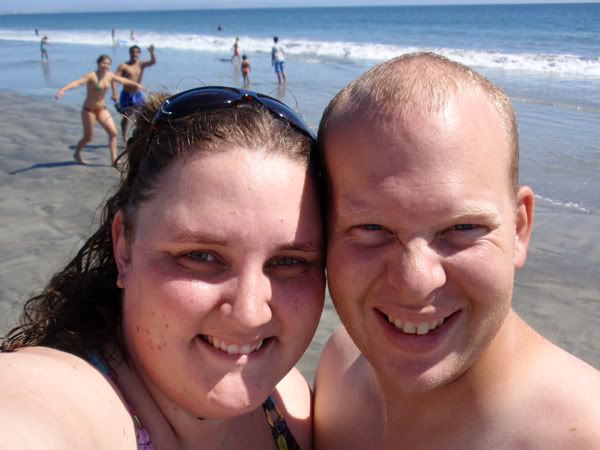 And this is what happens when DH takes the camera.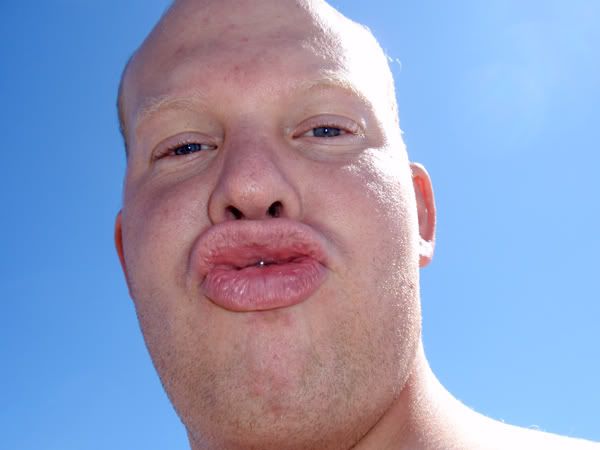 Isn't he cute?
That night we intended to go back to the hotel and get cleaned up and go back out for date night, but we ended up being tired so we found another little taco shop, picked up food and ate in and spent the rest of the evening just lounging and swimming in the pool.
Saturday, we wanted to give the beach another chance. The marine layer was heavy, but we hoped it would burn off. We loaded up and headed over--the gloom was thick and the temperature was cold. We tried to drive north to see if we could outrun it--no luck. We turned back and went back to the hotel. After considering our options, we decided to go to
Bates Nut Farm
which is this charming little place that my family used to go to when I was a kid. DH thought it was hilarious that my family used to hang out at the nut farm :P They have this cute little country store, and this little area where you can feed their animals. We had a really nice time. It was fun for me to share that with DH and enjoy the nostalgia.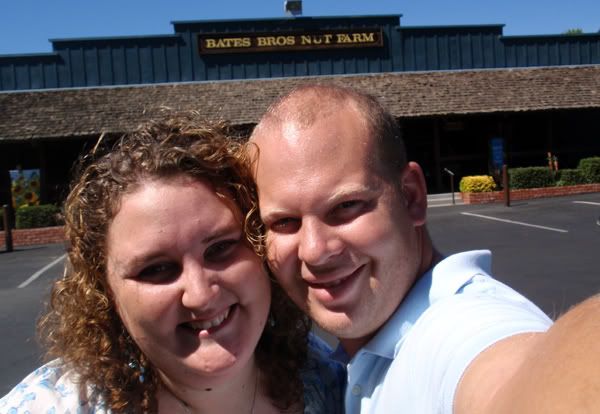 I used to stand at these barrels and just drool over all the candy. I just wanted to fill my bag with all of it!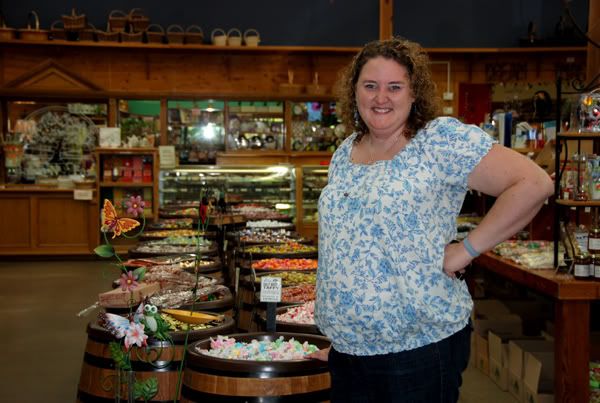 DH made friends with the goats. This guy in particular really liked DH. He was almost like a dog--he loved DH to scratch his ears!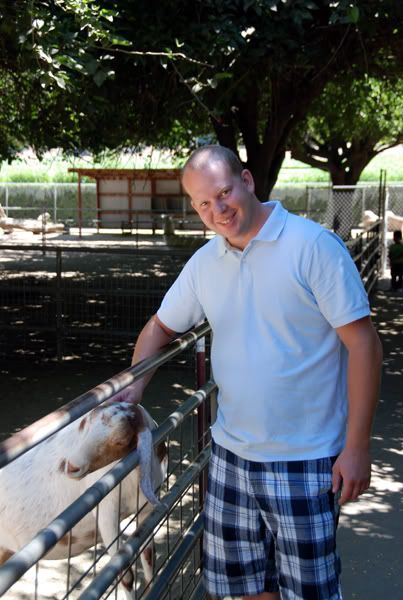 This guy was the playground bully-he kept bumping the other animals out of the way when we tried to feed them.
I fed these guys great (great?) grandparents when I was a child.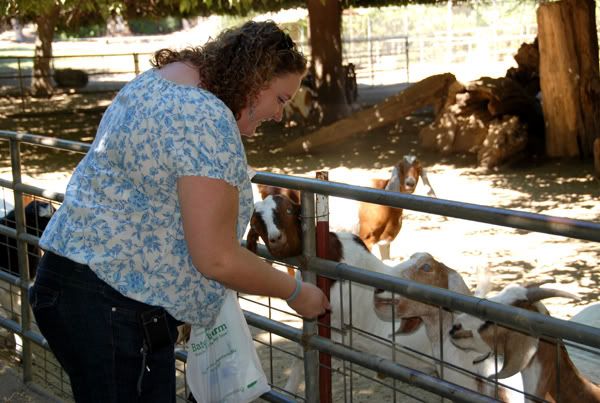 DH thought this sign was perfect for us: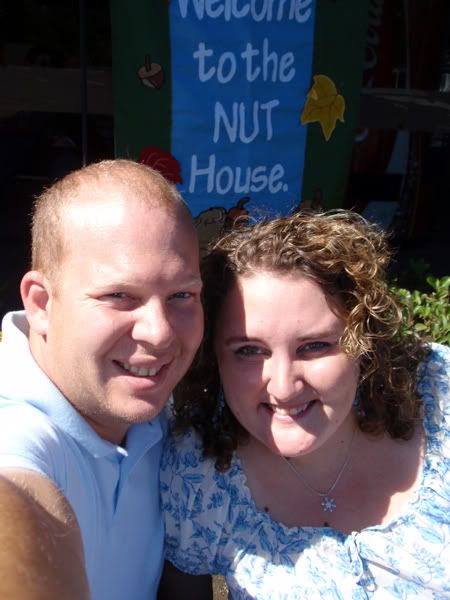 Then we headed back into town, enjoyed a swim in the pool, got cleaned up and went out for a night on the town in Old Town.
We went to
Casa de Reyes
, which is this darling restaurant with all outdoor patio seating, surrounded by fire pits, vendors selling roses and churros, and live music. We've been there a couple of times now, and definitely recommend it.
Sunday morning, it was time to check out. We got on the road around lunch time, and were almost home when we got the call about Mike. We drove faster than I think is legal anywhere on the planet, and arrived in time to spend several hours with him that evening. That was a sad end to our vacation, but my mother in law pointed out that at least we are going into this season of grief with well rested hearts, minds, and bodies.
I want to write about Mike, but I'm going to save that for a separate post.
Overall, we're really grateful for the opportunity to have gone on vacation. Both sets of our parents and DH's grandparents had given us some money for Christmas and our anniversary, so we'd been saving it up along with our own contributions until we had enough for a nice little getaway. Given the struggles we were having between the two of us, and the new developments with Mike, and me recovering from being so sick, the trip could not have come at a more perfect time, and we're just grateful that we had the chance to go. My NVP behaved itself most of the time, which was also a nice gift. We were and are definitely blessed.
I'm off to go try to rest off this headache before heading back over to hospice. Thanks for checking in. I hope you all had nice weeks, too!