I called my OB this morning to talk to my nurse because when I called on Monday, she had specifically asked, several times about spotting. Since she'd specifically wanted to know about it, I thought I'd call and chat with her about it. She was with a patient, so the receptionist took a message. About half an hour later, the receptionist called back and said that the doctor wanted me to come in this afternoon. I was a little alarmed by the urgency, but my friends told me that it's pretty standard procedure for an OB to want to check things out with spotting. That was one thing that was so refreshingly different. The reason we chose this doctor (aside from his medical skill) is because he's as pro-life as we are. This was a baby to him, not a "product of conception" or a "fetus." I loved that. I didn't feel like he thought I was crazy or overreacting. An RE's office is just different. Don't get me wrong--my RE is a WONDERFUL practitioner and I can't say enough good things about him. But in their field, the way early life is viewed is just much more clinical. And statistics brace them and their patients for the worst, not the best (case in point, my first phone call with the nurse down there). My OB is the exact opposite, which was wonderful for my heart.
So, I went in. It took him a really long time to find anything. After a long time of looking, he said "I'm not seeing anything in your sac." I just closed my eyes and lay there praying that God would give me strength to hear the news I thought was coming.
He looked some more than then he said, "Wait, there's a little flicker." And we saw it briefly, but then it was gone again. So he moved the wand some more and all the sudden, it was dead center, flickering away, plain as day.
We saw one heartbeat. Then he said the baby measured 5 weeks, 5 days, and I should technically be 6 weeks 1 day, but he said he didn't think that was cause for concern. The heart looked like it was beating really slow and I told him that and he said it was ok because it's early. But then when I asked for the rate, he said it was 116-which isn't slow and is right where it should be!
He also said that the fact that we only saw one is not conclusive about whether both implanted or not since it's so early.
So, he's doing another ultrasound next week. (Oh darn, we get to see baby again). He said he just thinks it will tell us more. He said he could see some spotting still up in there preparing to come down but he didn't think it was cause for worry.
He told me to cool it at the gym (again, oh darn) and just rest and come back next week.
I'm exhausted after all the emotional ups and downs of the appointment. But, so far, it's good news! Not the "all clear" we were hoping for, but definitely good! Please keep praying though that baby's just small and that this really isn't anything to worry about! 2 days is not really a huge difference but it seems so significant when their size and everything is so dramatically different from day to day. But, I refuse to go looking for worry, so, we're focusing on the good news.
I feel absolutely
awful
today, (in a good way), so that's hampering my ability to feel much of anything except barfy, but we really are excited!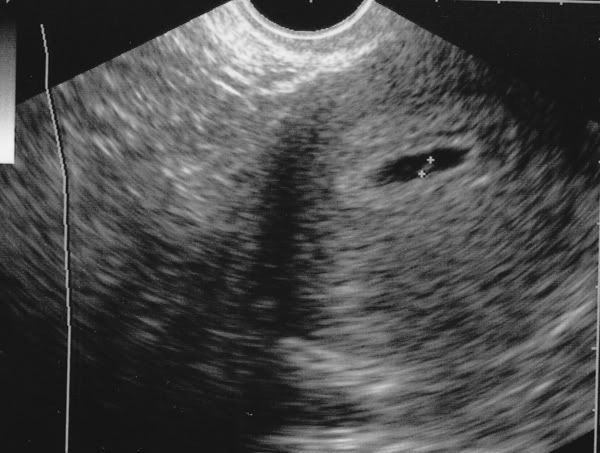 The dot between the two + signs is the baby! Baby is SOO tiny! It's crazy!