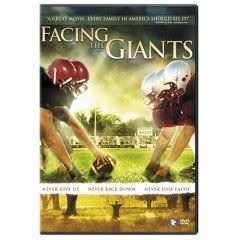 Facing the Giants
is a valiant, noble effort with a lot of potential. However, it misses the mark in some key areas for me.
Facing the Giants is the labor of love of
Sherwood Baptist Church
in Atlanta, Georgia. It is the brain child of brothers in the congregation, and the fruit of the labor of countless parishoners who volunteered their time and talents.
Spoilers ahead. Please do not read if you do not want the plot and end of the movie spoiled.
That basic premise is a high school football coach takes a ragamuffin team from underdogs to Champions. The pivotal point in their journey through the season is when the coach realizes that his purpose is to glorify God, even on the football field. He teaches his students to pray and to seek to honor God in all that they do, regardless of the outcome. The sub-plot is that the coach and his wife have tried unsuccessfully for years to have children. As you can imagine the end of the movie brings a football title and a quiver full of children for the once-barren couple.
Artistically, the movie is average. The script, acting and filming are all mediocre and indicative of an amateur effort. I struggle with our call to do everything with excellence--this movie is not at all competitive with professional Hollywood productions--and the idea that these kind-hearted people probably did give
their
best and that is all we can ask.
But what troubled me more was the fact that throughout the story, once the main characters adopted a method of praying, everything thence forth was granted according to their wishes. Though I appreciate the earnestness of faith portrayed, I would have found the film to be more instrumental were there examples of faith persisting even when the answer was still "no."
There
is
a powerful line in the film where in the coach's wife cries out, "Even if you never give me children, I will still love you." What a challenge! This is never demonstrated however because a few moments later, she is given the news that she is pregnant. Perhaps it is true that in some cases, all that is left for us to do is surrender our hearts completely before He will grant our earnest dreams, but in other cases, complete surrender still yields different results than what we would like.
In the Christian context, there is nothing wrong with the film. I did not find anything to be anti biblical persay. I just thought it was all packaged a little too nicely and I fear that a non Christian might walk away either scoffing at the cheesyness of it, or thinking that God is a genie, ready to grant a man's wish if that man would only say the magic prayer.
All that being said, I do love the amount of love and sacrifice that was so clearly poured in to this movie by its creators, from the directing, to the acting, to the potluck style catering for the cast and crew. No one can ever accuse this company of being less than 100% earnest in their sincere desire to tell a lovely story of God's mercy. It is a very sweet film. And I applaud them enthusiastically for daring to take on a subject in the public eye where the church is normally painfully silent.
Infertile couples who have yet or never to receive an answer of "yes" may find this film painful to watch. Couples who have received a "yes" answer from God may find this affirming and encouraging of their own testimony. I urge anyone who watches it to take it as entertainment, not doctrine or a prescription. I wouldn't avoid it, but I also don't embrace it completely.
Recommended: With reservation