In the last several years, God's often said "No."
Today, we got these three little letters.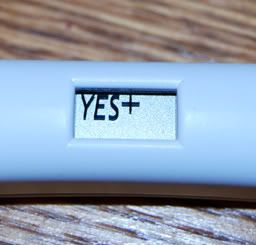 Y-E-S. Three letters, so simple on their own, but so powerful and generous when put together.
It's very, very early. (We did take a few tests at different times to confirm it wasn't a fluke). But it's so early, in fact, that the nurse at my doctor's office advised me to not tell anyone until after my blood test and ultrasounds, because "things might peeter out" and we don't want to go around having to "un-tell everyone."
That's one piece of "medical" advice I won't be taking. Our God is big and generous and these lives are already precious in His sight, and in ours. I don't care if we get to enjoy and bless them for 1 day or 1 million, we are going to celebrate their lives. I shall never regret this wonderful day we've had of telling family and friends, and knowing that so many people love these babies already.
We are just concentrating on enjoying these babies as long as we have them. God knows our hearts' desires, and our worries and our fears too, and we're just leaving them at His feet and celebrating the gift we've
already
been given and trying not to focus on what we might or might not receive tomorrow. God's grace is sufficient for today, and for every day hereafter. He knows what the future holds and holds it, us, and the babies in His hands. We are simply resting in that.
Our blood test is Friday. I don't know when any of the ultrasounds or anything after that will be. I've tried to be SO hands-off and laid back this time around, that I know surprisingly little about the next step(s) in the process. I don't know how many beta tests he'll do. I have no idea if this doc will do early ultrasounds or if he'll release me to my regular OB, at which point, I'll wait til the standard 8-12 weeks. I have no idea when we'll know if it's one baby or two who implanted.
I do know that if it's one baby, the due date is February 1 (according to the reliable internets ;) ) and if it's two babies, the due date is early January. My accountant husband is of course hoping that the two will be a tiny bit earlier, and give us a tax break ;) Haha! Stay put as long as you want, babies dear.
Thanks for celebrating with us, and covering these precious babies in prayer. We are praising God for exactly the amount of days He has numbered for them. Please pray for us too, that our hearts would continue to be guarded against worry and fear, and that they would be fortified with strength, peace, and trust.
Love to you all!