First, I finally took a "Belly" pic!
I got up, put my cute clothes and makeup on and took the pics. I guess I must look like a bum most days because I got to work and my pastor said "Wow! You look especially lovely today." LOL. didn't realize I was that obvious with my dressing laziness these days! I had gotten to the point where I didn't have maternity clothes except dresses and my feet hurt too much to wear them because I don't have good shoes to go with them, and I didn't want to wear my normal clothes anymore, so it was hard to find something to wear. But I didn't realize it was THAT obvious :)
Ok, so here is a "before" picture of me. It's 2 years old, but I pretty much look exactly the same. You can see that I have a pretty big belly even when I'm NOT pregnant. So that's why I've felt for so long that I just looked fat, not pregnant.
Here I am yesterday morning at 20w4d:
This second one is definitely as much fat as it is baby, but I still like it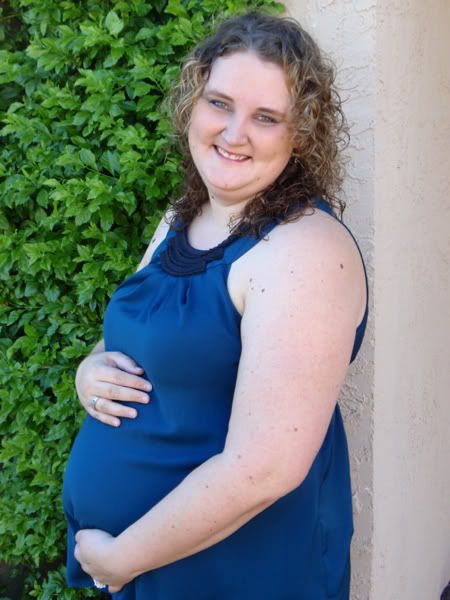 We went to a consignment sale yesterday. We bought a Chicco umbrella stroller, 11 articles of clothing for Matthew, and a dress for me for $50! It was awesome! Phoenix moms, the sale is still going on today (Saturday). Check out http://www.thesavvysale.com for info.
We also met our childbirth instructor there--she's the one who told us about the sale. She's very sweet. I was really nervous because some of the Bradley instructors can be really militant but she was so nice. I was really comfortable with her, which made me feel really good. It's funny both she and her 2 friends who are Doulas pointed at my belly and said "your belly is so cute." I said "no, my belly is just fat." And they said "no, that's baby RIGHT THERE" and pointed to a very specific point. When I looked down, I noticed that I was lopsided :D I guess he was showing off or saying hello or something. :D It was fun.
They also said there's an old wives tale that your baby will be born exactly 5 months after you feel the first kicks. That puts me at January 11. What's funny is my mom's EDD with both me and my brother was January 9 (of different years). Guess our family just likes that week!
Then we went to Motherhood Maternity and I finally bought some Maternity clothes. I had a couple of tops, but I was still wearing my old bottoms. I had one pair that I could wear unbuttoned with a belly band, and some old ones from before I lost weight that were too big so I was always either scrunched, or constantly hiking my pants up. I found two pair of capris, and oh my goodness, they're SO comfortable! I had no idea what I was missing!! I also found a few more tops so I can stop wearing the same 3. I still need to find a few more bottoms, but I think I'm full on going into maternity clothes from now on, now! SOOO comfy!! Between the extra length of maternity tops, and the comfy pants, I may never go back to regular clothes! ;)
Baby's bedding came. It was a dud :( It was poorly made, and it was actually stained, even though it was supposed to be brand new. So we sent it back and went back to the drawing board. This is the one DH chose. I think it's cute that he has a strong opinion, and I really don't, so I think we're going to go with this. Surprisingly enough, I was more into the transportation thing than he was. He told me tonight that he really wants a monkey. So, we found a monkey. And all his friends. I asked DH, "what's with the monkey?" He said, "I've decided that it's my schtick." Um, ok. Random. But really cute.
We're going tomorrow to register at Buy Buy Baby and close our registry at BRU. What a difference in the stores. We originally passed up BBB because on smaller things, we thought they were significantly more expensive than BRU. But on the more substantial purchases, the prices are actually comparable, and BBB accepts BRU coupons, as well as Bed, Bath and Beyond coupons. Plus, the sales people were SO knowledgeable. We definitely felt more confident in their product recommendations, and they offered more and better quality choices. We also think the BBB corporation in general is more customer friendly. So, new mommas out there, give BBB a chance if you have one near you!! We were very impressed.
DH is really getting into this. He chose the monkey and friends, and he wants to change the registry...it's so cute! We've really come in to the fun part of pregnancy now! Speaking of which, I've had two NORMAL days this week--full length, lots of activity, little nap time--I feel like my old self and it's so nice! I doubted if I was going to get here since it hadn't happened yet, but I finally did, and I'm loving it! Thank you for your prayers!