We've joined team....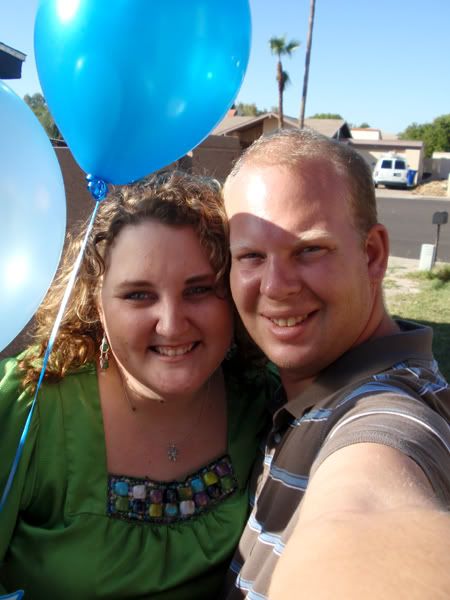 BLUE!
Matthew Michael Jeremiah is on his way!
Our appointment was almost an hour long!
He started out by being a stinker and only showing the top of his head. The upside (ha! no pun intended!) is that the tech got an extensive look at his brain and measured everything pertinent--everything measured properly and looked correctly shaped and positioned! She got some nice pictures of his profile, and confirmed that there are no indicators of Down's Syndrome or of a cleft palate. We weren't concerned about either, but the confirmation is nice just the same.
He decided that he's going to single-handedly revamp the trend of sticking your face on the copy machine. This picture gave us a good giggle. It's like he's pressing his nose up against the wall and saying "hello out there!"
Then he moved a little bit and she was able to see his abdomen, arms and legs. He has 5 fingers on each hand, which he waved at us, several times.
He stayed on his side for a long time. She was able to look at a lot of his internal organs and said that his kidneys, stomach and gallbladder all looked good.
FINALLY, he flipped, spread his legs, and basically sat on the camera. What cracks me up about this picture is that his face is in the background and he's almost smiling, as if to say, "I'm a boy and PROUD of it!"
After she took some more measurements, she switched probes on the ultrasound machine. We got this nice image that I think is easier to see:
Then, she surprised us by switching to 4D! We had no idea she'd do that and we were just tickled pink. She got this great picture. I love his little face.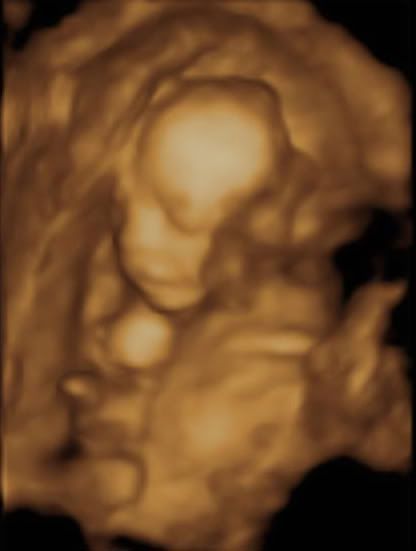 After that she finished up and then said the doctor would be in to see me to do
another
ultrasound, just in case she missed something.
He walked in and said, "Your child is very....uncooperative." I just laughed. He's not even born yet and he's already got some mischief in him.
The doctor took some more images but had the same lack of success in a few areas that the tech had experienced. Basically, they were able to look some at the heart and they could see that it has 4 chambers and that the blood was flowing the correct way. But, they couldn't see as much as they wanted to. And, he absolutely refused to flip over and put his back toward the camera, so they couldn't fully investigate his spinal cord. So, they've scheduled us for a repeat ultrasound in 3 weeks so that they can take better images of those two areas. They did reassure us that from everything they COULD see, they thought things were normal. But they said they thought they'd be remiss if they didn't get some clearer images. I can't say I'm objecting to seeing our little man again.
Now, about his name.
Matthew is DH's middle name. I happen to think DH is the most wonderful man in the world, so I think it's fitting to name our son after him. The name means "gift of God," which this little one is. Also, the family middle name for men in DH's family is "Hugh." DH and I don't particularly care for that name. DH always thought his middle name was "Matthew" because it at least keeps the
sound
of Hugh. We recently asked his mom if that was true and she said it was not, but we actually still think it's cool and that it pays homage to the family name.
Michael was chosen in honor of Mike, our friend who just passed away. We really wanted him to meet our kids, and he was one of our biggest cheerleaders, so we thought it was fitting to honor him in this way. It's funny-ever since he died, I've felt like this baby would be a boy.
Jeremiah is the middle name we chose before Mike died. We chose it because of the verse in the book of Jeremiah that says, "Before I formed you in the womb I knew you, and before you were born I consecrated you..." Given the way this little snowflake came to be and the fact that he actually had a "before my womb" time in his life and God chose to spare Him for us, we thought it was especially fitting.
We wrapped up little booties in blue and little girl onesies in separate packages for my parents and DH's parents with strict instructions that they not open the packages until instructed. Everyone was thrilled with the news that he's a boy, but my father in law was the most excited, I think. He has only one other grandson. And across this entire generation, there are only 3 boys. DH's cousin and his wife are pregnant. They don't know what they're having but if she's a girl, our baby will be the only male in this generation with the family last name. FIL is pretty stinking excited about that.
For our siblings, we had one Almond Joy Bar and one Mounds Bar and then told them each which one to unwrap. The theme song from the 80s for these two candy bars goes "Almond Joys have nuts, Mounds don't." I have to say that it's a little more crass than I would have preferred, but we couldn't think of any other inexpensive, creative ideas. It was fun.
On the way home from the appointment, we stopped at the party store to get the blue balloons. We came home and called the parents and siblings to direct them to the right packages, then called DH's grandparents, who were also excited, and then have spent the rest of the evening telling pretty much anyone who will listen! :)
It still hasn't quite sunk in yet that he's a boy. I'm a girl, so I know what to do with girls! I don't know what to do with boys. I guess I always pictured myself as a girl mommy. But, we're going to learn together, and I've been told that boys are much easier! :) I'm excited to learn!
So, that's our happy news. Thanks for letting us introduce our
SON
to you!