Wow, I feel like things are happening so quickly, now.
I'm still at negative 3 pound overall weight change but suddenly, I am starting to look pregnant. To most people I still probably just look fat, but I can notice differences in the weight, skin texture, etc. I've regained some of the weight I lost and it's all come back in my tummy area. I find myself walking differently, feeling differently, being more sensitive about movement of my belly, etc. My stomach feels harder and to DH and I, looks differently. I feel like the change happened literally overnight because just last week I was telling my friends that I really haven't changed that much. I've always carried my weight around my tummy, and I still weigh less now than I did at my heaviest point, so for the most part, I've just felt like the same old me. But this week, I'm really noticing a difference. Maybe it's all in my head! :P
I've taken swimming back up the last couple of weeks now that my vomiting has finally started to subside (only two episodes since Labor Day--yay! And one was migraine related, so technically only one NVP episode!) and I REALLY feel better. It seems so counter-intuitive because when you feel exhausted and crummy, the last thing you want to do is exercise, but I've found it makes such a difference!
We've done a little more buying for baby. We bought his bedding set and it's so cute. We didn't intend to buy it so early, but we received word that it was discontinued by the manufacturer and several stores were already sold out and the remaining stores that still had it had inflated their prices, so we found one store that still had it at regular price, and we snatched it up. Isn't it cute? It totally fits with the fact that DH is a 4th Generation Car Guy and Matthew will probably be 5th if his dad and grandpa have anything to say about it!
Isn't it cute?
We also ordered his bedroom furniture, because it's backordered until almost Thanksgiving, and we want to be able to put his nursery together in December. I just think this furniture is lovely, don't you? The changing table top removes and the piece becomes a nightstand. The crib is solid wood. I've loved this set for years and years and I just think it's beautiful.
We still want to get the matching bookshelf, but we'll hold off on that til later.
And I think we're done with purchasing for this month at least. It's a really nice feeling though to just check things off little by little. We worked really hard to pay off all of our debt so now the money that was going to credit card bills every month can go to baby expenses. I like that we can do a little each month and take advantage of sales as they come up (I got his furniture for almost $700 off!) rather than being overwhelmed with expenses right at the end.
We've received some fun gifts. Both of my sisters in law know of my obsession with Gymboree so one sister sent him this: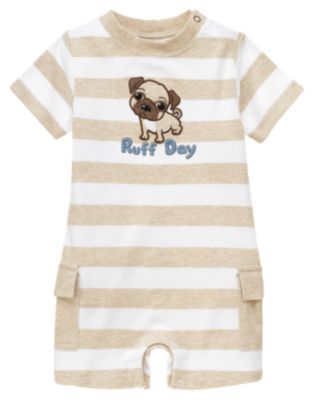 along with a matching hat.
The other one, who lives in cold weather, sent him this for when he comes to visit them:
along with some matching socks.
Aren't they both so cute? I'm just so tickled pink with all these cute things. Thinking about him in them makes me want to clap my hands and squeal like a little girl. I just can't believe he's
really
coming.
But the MOST exciting news of the week is that I'm finally starting to feel him. I'd had like 2 and a half or 3 weeks where I'd felt these little flutterings. They felt like butterflies, or bubbles popping inside, or something. But I wasn't really sure if it was him, or an overactive digestive system :D Saturday night, I was talking to my best friend on the phone and told her that exact thing when she asked if I'd felt him yet. Shortly after we hung up the phone, he gave me two swift, unmistakable kicks, as if to say, "Yes, Mom, it IS me!" It's the coolest, most surreal feeling in the world! He does it a few times a day now, most often around 11:30 at night. I'm going to have a talking to with him about how daytime is playtime, and nighttime is for sleeping. But considering that I'm a nightowl too, I'd better start leading by example! :)
Anyway, that's what's going on in our corner of the world! Hope you all are well!
Bloggy friends: Please leave me your link in the comments again. The gal who designed this blog template had to move things and in reinstalling the template, I unwittingly lost all my links (again!). Some I have memorized, and others I don't, so if you could help me out and post them again for me, I'll get my list added back and make my rounds through your blogs again :) Thanks!