I was looking through some old things today and found some scans of some old scrapbook pages I made.
I made this one on July 27, 2006. It amazes me how much things have changed, and yet how much has remained the same.
(Click to enlarge)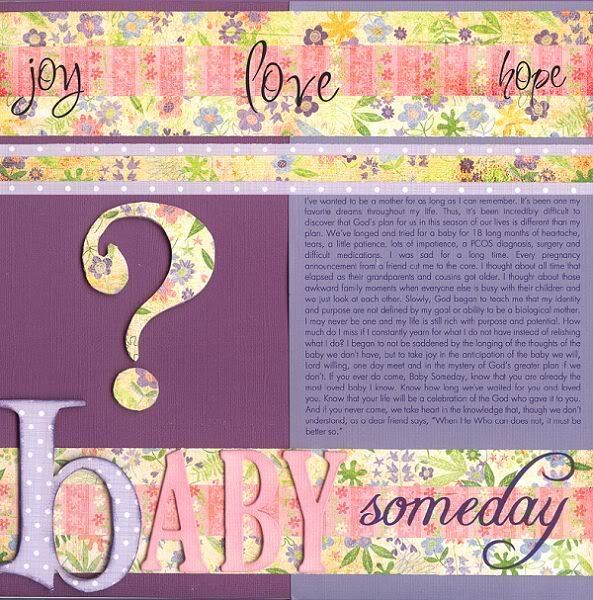 Journaling reads:
I've wanted to be a mother for as long as I can remember. It's been one my favorite dreams throughout my life. Thus, it's been incredibly difficult to discover that God's plan for us in this season of our lives is different than my plan. We've longed and tried for a baby for 18 long months of heartache, tears, a little patience, lots of impatience, a PCOS diagnosis, surgery and difficult medications. I was sad for a long time. Every pregnancy announcement from a friend cut me to the core. I thought about all time that elapsed as their grandparents and cousins got older. I thought about those awkward family moments when everyone else is busy with their children and we just look at each other. Slowly, God began to teach me that my identity and purpose are not defined by my goal or ability to be a biological mother. I may never be one and my life is still rich with purpose and potential. How much do I miss if I constantly yearn for what I do not have instead of relishing what I do? I began to not be saddened by the longing of the thoughts of the baby we don't have, but to take joy in the anticipation of the baby we will, Lord willing, one day meet and in the mystery of God's greater plan if we don't. If you ever do come, Baby Someday, know that you are already the most loved baby I know. Know how long we've waited for you and loved you. Know that your life will be a celebration of the God who gave it to you. And if you never come, we take heart in the knowledge that, though we don't understand, as a dear friend says, "When He Who can does not, it must be better so."
I made this one sometime last summer: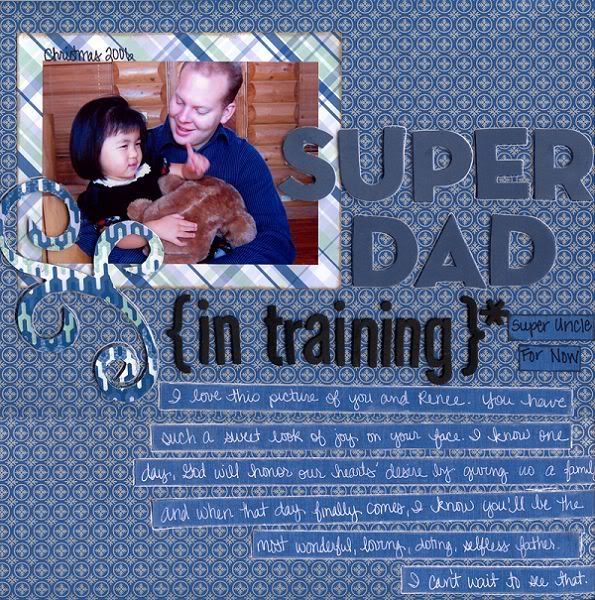 Journaling reads:
"I love this picture of you and Renee. You have such a sweet look of joy on your face. I know one day, God will honor our hearts' desire by giving us a family and when that day finally comes, I know you'll be the most wonderful, loving, doting, selfless father. I can't wait to see that."
I haven't scrapbooked since doing this page actually. It became too difficult because I couldn't get past the thoughts of "why are you doing this? You aren't going to have any children...no one will ever look at or read these!" Then when I overcame that, I just couldn't find the time or desire to do it. But how grateful I am today for these keepsakes of our journey. I can look at them and reflect on all that God has done over these years.