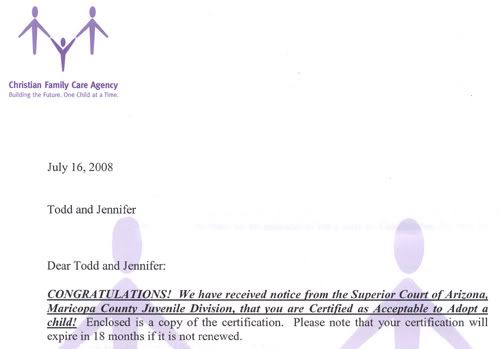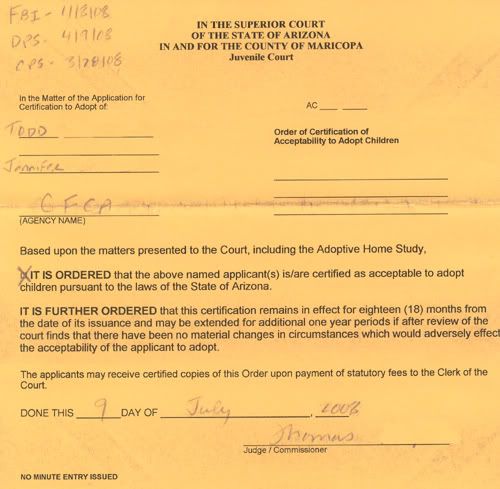 I was stuck here all day waiting for Fed Ex to bring my bank cards (bank made a mistake and canceled my existing ones). Otherwise I would have been over at BFFs house when the mail came.
I was just laying down for a nap (this week has been really tiring!) when I heard the mail truck. I argued for a minute with myself about whether or not I should get up and check it but I told myself, "no, it's too soon." Well I finally did decide to check and lo and behold, the certification had arrived!
The date on the certification is 7 days after the court would have received the application. The agency received it within 7 more days. The agency notified us today, just 2.5 weeks after the initial mailing date of the application to the court. That's crazy fast! Rather, it's God fast! He's the only explanation for why things have moved so quickly and smoothly, and we give Him all the glory!
The other good news that came in earlier today is that I can go in for my Sono-Mock on day 1 of the next cycle! Once all that's done, we'll be able to do the transfer as soon as the embryos are here!
The next steps take a bit longer than I thought. We wait for our HS to be sent from CFCA to Nightlight. Then, if Nightlight has all of our documents and all of S and Bs documents, then they can issue contracts. If not, we wait for those first. We don't think there will be any delay here because both families have been pretty diligent about submitting everything.
After the contracts are signed, S&B's lab work can be sent to our clinic. Our doctor would then review it and decide if their blood work met our state's standards (every state is different and they're in another state so they would have been processed according to CA standards), as well as the clinic's standards (clinics can be funny about using embryos they didn't "create.") If that all passes muster, then Nightlight can send the Embryology Report to our clinic. Again, the doctor here has to review it all to see if everything meets the right standards, and if they'll accept them for transfer. Once THAT happens, then Nightlight can arrange for Fed Ex to move the Embryos. If there's something "wrong" then something else may need to be done on the GP's end but we won't know that til our doctor reviews everything, nor would they know to expect it either.
So the part with the doctor is what could take longer. Megan (Nightlight) said that more blood work or reports are needed about 50% of the time. She said doctors can take anywhere from a couple of hours to a couple of weeks to review the reports and make their determinations. Coordinating with Fed Ex takes a week, too.
The contract stage just takes as long as it takes everyone to sign and have everything notarized and mailed back. The transfer of information between clinics and getting the "all clear" can take anywhere from 4 weeks to 4 months. We don't really know since we barely know this doctor. Megan said the average is 6-8 weeks from start to finish. Fed Ex takes a week (though I can't remember if that's included in the 6-8 or not).
Then we could do a transfer the next cycle after all that is done. So it seems like October-ish might be optimistic, but we also know how quickly God has orchestrated everything else, so we are confident that everything will continue to happen in the perfect time!
Thanks for celebrating with us!