DH and I just returned from a wonderful weekend away in Flagstaff, AZ, which is a town about 160 miles north of here. We went up for our church Women's Retreat. Yes, you read that correctly. *We* went to the Women's Retreat...kind of.
Two of the ladies who coordinated it are dear friends of mine. They'd been encouraging me to go for a long time. I finally told them that I just didn't feel comfortable going and having a roommate, who I knew would have to hear me barf, be interrupted by my constant bathroom trips in the middle of the night, or be inconvenienced if I wanted to nap mid-day. I also said that I didn't feel comfortable making the long, remote drive alone, knowing that I'd potentially be pulling over to the side of the road frequently to be sick, but that I also really didn't want to carpool or ride in the church van and have anyone else have to put up with that. Our 5 hour drive to San Diego took us 8 with all my stops, so I knew a 3-4 hour drive could easily be much longer, and I didn't think that was fair to anyone else, especially for a *relaxing* weekend. So I politely declined and wished them a nice trip.
They came back to me and said that when they booked the hotel, they'd committed to having 20 women there, so they were paying for meals and rooms for 20, but didn't have that many signed up to come. Since they were going to pay anyway, they said I could have my own room. Then they said that if I was going to room alone, I might as well bring DH, and that would solve the driving issue, too. It was way out of my comfort zone to be going, but the way was paved so smoothly, that I decided to go!
I am so, so glad I did. I truly enjoyed respite.
We left Friday at lunch time and just took our time getting there. We stopped as often as I needed to, and DH drove while I lay down when I needed to. My father in law loaned us his SUV, which is much nicer and rides more smoothly than our vehicle. Climbing the altitude would have been sort of Fred-Flinstone-ish in our car, so I was grateful too for his generosity, because I think I did as well as I did on the long drive largely due to the vehicle.
We got to the hotel and took a little rest, and then went out for a date-night dinner before the retreat began. Flagstaff is just lovely-it's small and quaint, and surrounded by the natural beauty of forest and wildlife. After dinner, I ditched DH for prettier ;) company, and enjoyed the first session at the retreat while he had some nice alone time.
The next morning, I was really sick. I was able to make it through one morning session, but I missed the other, most of lunch, and all the free time. I was frustrated, but I found the timing to be testing, considering that the theme of the weekend was "contentment."
Meanwhile, DH had fun going out and scouting the town, touring Old Route 66, reading, resting. He does so little for his own rest and enjoyment that I was really grateful for him that he had that opportunity. And the ladies were so sweet. They had given each of us gals a goodie bag with snacks, fuzzy socks, and a journal for the retreat. They made a bag for him too-complete with a Nerf Gun and mini Nerf gun for him and baby Matthew, the book "Bringing Up Boys" by James Dobson, and his own manly comfy socks. The ladies really just went out of their way to bless DH and I both.
After sleeping much of Saturday, I was able to rejoin for Saturday evening's dinner, the evening teaching session, and games afterward.
This morning, I felt really pretty good and was able to participate in the worship session and the final teaching session, as well as the end sharing time.
DH was in and out--he drove another lady and I to and from our room when the walk got too long. He had meals with us, and he helped load the van this morning. People tell me what a sweetie he is--of course I know it already. I'm just glad I was smart enough to marry him!
After the retreat ended this morning, DH and I went for a walk in the woods around the hotel. I had been wanting to do it all weekend but hadn't felt well enough to. It was so peaceful and lovely. We took the opportunity to use my nifty little remote and take a picture of the 3 of us--something we hadn't done since our trip to San Diego when I was still in the first trimester.
DH did this after I had pushed "click" on the remote timer. Isn't he sweet?
Then we got in the car and drove to Sedona. I'd also never been there, though our state is famous for it.
Sedona is nice enough, but the canyon you have to drive through to get between the two towns is one of the most beautiful places I have *ever* seen. I've never seen anything like it. The mountains were unlike any I've ever seen--rocky and imposing, but still covered in trees. There was water in the canyon and the trees hadn't gone completely barren yet so there was still a lot of green, red and yellow just EVERYWHERE the eye could see. I tried to take a photo but I couldn't do it justice. But coming around the bend and just looking down into this gorgeous valley just takes your breath away. I literally gasped when we came around the corner, and not just because we were near the edge of a perilous cliff ;) Several times, I asked DH to either slow down or pull over, just so we could enjoy it. And we did! It was wonderful to just have the freedom to do that. I've way way WAY over-saturated these in photoshop just to try to give you an idea of how beautiful and rich the color is in real life. I wish I could have done this place justice--you'll just have to go see for yourself!
We eventually made it to Sedona, which was beautiful in its own right. Though I preferred the lushness of the canyon, Sedona's majestic red desert mountains are pretty incredible, too. We wandered the town for a little while and ate out on the patio at this darling little restaurant. We played "identify that mountain" along with a little map that told us all their different names, but all we determined is that we're really bad at that game.
Sedona actually kind of made me sad. The town is a virtual epicenter for all things spiritual and self-aware, but pretty anti-God. Everywhere you turn you can get a palm reading or a psychic consultation, or a moon crystal or some other man-made way to heighten your sense of spiritual or self-awareness. Many believe that there is some sort of power in the rocks and mountains. I couldn't help but feel sad that here these people are in what is quite possibly one of the most beautiful places on this earth, and they can't see past the creation to the Creator. It was hard for me to grasp how people could see a place so beautiful, and NOT wonder about Him whose handiwork it is.
We went up to Church of the Holy Cross, which was also sort of sad. It was originally a place of worship, but now is just a tourist trap. People go up to see this beautiful place designed to worship God, and on their way out, leave various remnants of their own spirituality in the form of lucky coins and charms, etc. I didn't even feel comfortable going inside the chapel, but the park around it did afford some beautiful vistas.
DH took these-didn't he do a nice job?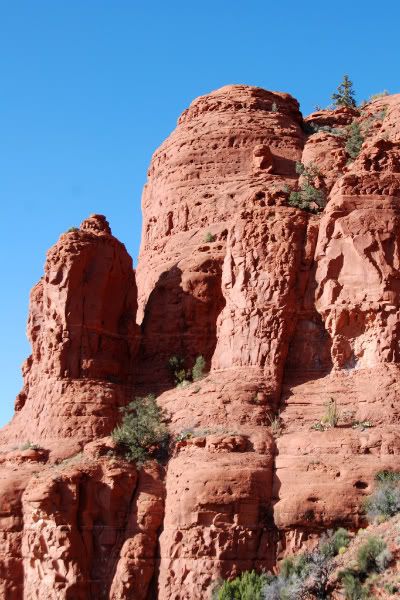 Then we decided to head home and said goodbye to the beautiful scenery. When I was at the chiropractor last week, I noticed a flyer for a WWII airplane display. DH and I had briefly talked about stopping there on our way home tonight, but we'd forgotten completely about it. Just as we were driving past the freeway exit for it, one of the planes on display flew right over our heads. So, we jumped off the freeway and headed to the airport. There were 3 on display-a B17 Bomber, a B25 Bomber and a B29 Bomber. We got to go inside the B17 (well I could only go in the rear because baby Matthew and I couldn't climb up to or fit into the front!), and see the B25 and B29 in flight--that was SO cool! I'm so grateful that we still have people willing to invest the time in preserving these planes and the legacy of the men who flew them.
Then we finally headed home, where we've just been relaxing all evening. We were just saying what a treat it was to have no agenda today--to just say "hey, let's do this!" and then actually do it. Usually one of two things derails us--busyness, or tiredness. Often when we get a free day, we want to spend it napping--but today was so much more
restful
than sleeping usually is! We both resolved we'll try to do this more often! And quality time with my sweet DH fills my love-cup faster than anything else a human being can do, so I always just drink that time up so deeply.
So anyway, it was truly just restful in every sense of the word. The hotel was just lovely. The surroundings were serene. The company was wonderful. The teaching was challenging. The pace was gentle. It was just lovely.
Back to the retreat. The theme was contentment. I really was challenged in a lot of areas. I'm honestly still processing, but I wanted to share some things that really struck a chord with me.
She cited
this book
from the 1600s, in which the author describes contentment as:
The inward, quiet, gracious frame of spirit, freely submitting to and taking pleasure in God's disposal in every condition.
I really liked that definition. She went through and unpacked each word. Quiet was the hardest one for me to wrap my head around. It doesn't mean not feeling something, not bringing your complaint to God, or even not sharing it with your friends. But it is marked by an absence of grumbling, pining, vexing, etc. I really have been noodling on the difference between sincere lamentation and honesty with God, and just grumbling. I know I've been camping more in the grumbling department these last months, so I'm really trying to decide what/where the difference lies and how to make my heart and weakness known to God and to be authentic, but to not get sucked in by it.
She also dissected the "in every condition" to specify every type or kind of condition/affliction, every timing and duration of a condition/affliction, and every variety of or change in a condition/affliction. I really appreciated that because I think when I've considered that before, I've really only thought about the type/kind.
A lot of times over our journey of infertility, I thought about what I was missing out on, and what I'd lost or potentially lose. And I won't lie. That pain is real and deep and hard and I don't mean to minimize it at all. But she said something that I wish I'd better understood at that time:
God is the giver of goodness. The thing we desire is NOT what holds or gives the goodness associated with said goal. Therefore, He can also give that same goodness in the absence of whatever it is we desire, and specifically in coming to a place of being content in that absence.
She challenged us that it's not enough to have ____________. You must cling to the God of ___________. Put in whatever you want in that blank--health, life, riches, family, provision, security, etc.
I think I have learned a lot of that over the last 6 years, but I think I also forgot a lot of it over the last 7 months. This stupid sickness has allowed in more fear and worry and weakness and bitterness and whining than anything has in a long time. How quickly so many years of God's toiling in my heart have been undone. Don't get me wrong. It really stinks to be so sick. It's hard in every way. But I think for 7 months, I've just stopped at "this is hard!!" She even gave a list of excuses we use to wallow in our discontent. Of the 10, two really stuck out to me as a "hello, Jen! This is for you!"
"You just don't know how bad it is."
Well, that's true. You probably don't. I have to ask myself, so what? That doesn't give me an excuse.

"But I worked so hard and now THIS!"
Ha! after 6 years of infertility, I definitely felt entitled for SOME part of this to go easily. But really--what am I basing that on? Some kind of "fairness?" If life was about what was fair, I'd be bound for or already burning in Hell.
Another thing Dora said this weekend was that God knows the best medicines for the specific diseases of our heart.
For whatever reason, physical affliction seems to be God's best medicine for me right now. And I've just refused to see this as an opportunity for spiritual growth. I've been so focused on survival, that I didn't really see that this could actually be for my
nourishment
. Honestly, I don't know that I could tell you right now what puking a kazillion times a day is designed to do for my spiritual health. But, by God's grace, I'm determined to find out. I really appreciated her challenge.
She left us with 6 questions that I'll share here because I think that they're appropriate for all of us, no matter where we are in our spiritual walk or what our bone of discontentment is:
She asked the question, "Are you satisfied with God?" And then specifically she said:
•Are you satisfied with Who He is?
•Are you satisfied with what He is like?
•Are you satisfied with how He does things, both globally and in your life specifically?
•Are you satisfied with where He is?
•Are you satisfied with when He does things?
•Are you satisfied with why He does things the way He does?
I think most of us could answer several of those questions in the affirmative. And I think we could even answer the general "are you satisfied with God?" question with a "yes." But when she really broke it down into those specifics, I was a little more hard pressed to say that I can say "yes" all the time.
So, I have a LOT to noodle on. A lot I've been convicted on. It was particularly funny as I was puking my guts out Saturday morning to think, "Ha! See how content you are with THIS!" Talk about application! There was a lot I've been challenged to just think more on. Even some things she said I didn't quite agree with, but they still challenged me to better define my own thoughts on the subject. In addition to the teaching, we had some wonderful worship and fellowship at all with such sweet ladies from my church. I really just love our church family so much and it was nice to be away and enjoy the fellowship after some of the struggles I've had recently with my roles at church. It was definitely where I needed to be this weekend, and God just made the way so smooth for me to be able to be there. I'm just so grateful.
I really need to go to bed but I really don't want this weekend to be over. I can't remember when I've had a weekend that was both so fruitful and so restful at the same time. I know I received a precious gift this weekend. Thank you God, and to you ladies He used to give it to us.
I guess I'll close with one last picture....29 weeks! Forgive the hair...Flagstaff made it...um...big! :)
I'll catch up on all y'alls blogs early this week! Thanks for checking in on mine and I hope you all had a wonderful weekend!