I love reading these posts on other blogs so I thought I'd post some of our favorite things for the enjoyment or help of other parents :)
Matthew is 2.5 and is all boy. His loves are music, books, and anything with wheels. I've shared
his favorite books
with you before, but here are some of our other favorite things. For toys, I try to buy toys that will last a long time, that are easy to clean, that are open-ended in their purpose, and that have a learning purpose. I also buy almost everything second-hand, which is a good indicator for me of how durable something is.
Thermos Foogo Phases Leak Proof Stainless Steel Straw Bottle
I found this cup by accident on clearance in tar-jay one day and I only wish I had more. It's my favorite cup for him, especially on the go. It's the only sippy cup that's never ever leaked on us. And it does AWESOME in our Arizona heat. He can take it in and out of stores and leave it in the hot car for HOURS (it's 115 OUTSIDE--you can guess what the interior temperature of the car is) and when we come back to it, his drink is still cold. It's seriously awesome.
Little Tikes Handle Hauler
These are hard to find new, but they're pretty easy to come across second hand for $3-$5. The handle makes them easy to push around and the truck is sturdy enough that the car doesn't tip up when he leans on it to push it. They really seem to have mastered the correct size and placement of the handle to make this a great push-car.
Discovery Kids mp3 Player Boombox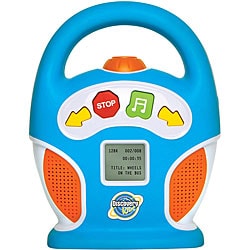 As far as I can tell, this little gem isn't made anymore. Boo! If you ever see one secondhand, snag it! I paid $6 for ours at a kid's secondhand store. This thing is awesome. I can sync it to my computer and load his songs on it. Right now he has about 3 hours of music on it and there is still plenty of room on it. It's awesome. He carts it from room to room and it acts as his personal soundtrack from the time he wakes up until the time he goes to bed. He knows how to turn it on, control the volume, skip a song, and turn it off. It's awesome because then I don't have to hear "more music!?" every 3 minutes throughout the day. I have a variety of songs on it--kids folk songs, hymns, Sunday School Songs, nursery rhymes, etc, so he can choose what he wants to listen to. And it's totally Matthew-proof. It's in a nice rubberized case so it can be dropped, sat on, kicked, whatever, and it keeps playing away. There's no proprietary software to install-just drag and drop your music files and unplug a standard Micro-USB cord. I have loaded both mp3s and WAV files on it.
Colossal Coaster Music Album
from Lifeway Christian Books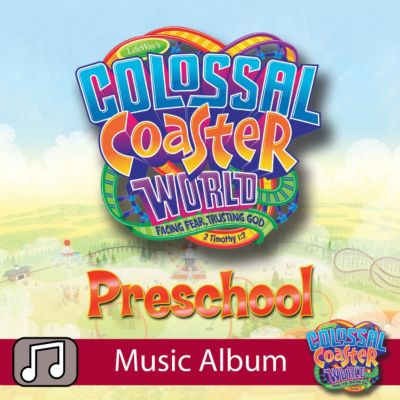 I taught VBS for 2 year olds at a local church this summer and in my curriculum packet was a CD of the music. Matthew has fallen in love with the songs and so have I. The preschool album has 9 songs. One is instrumental. The other 8 are centered around the theme of the VBS unit, which was "facing fear, trusting God." The music is high quality, pleasant sounding, and fun for kids. Matthew can sing some of the songs now, and I think he'll enjoy it for several years as he continues to learn the others. There is an older kids version too but I am not as familiar with it. He listens to it at least 3 times a day and it doesn't even drive me nuts (unlike a band of middle aged British dudes whose name rhymes with Giggles!)
Magna-Tiles
Magatiles are seriously, the coolest toy ever made, I think. We first encountered these at the Children's Museum. Each tile is a heavy-duty plastic. Each edge has a magnet between the front and back faces, all around each edge. That allows for the tiles to be able to be stacked and built together in any number of ways. Matthew uses them for sorting, building, counting, shape identification, and color identification. I love that they don't have a pre-determined way in which he's supposed to play with them. The only downside is that they're pretty pricey. A set of 32 is about $50. I hesitated buying them for a very long time because of the cost. Then Matthew's great-grandparents sent me a check for his birthday and asked us to choose something for him. I wanted it to be something he would have for many years, and these fit the bill. At the Children's Museum, kids of all ages are always fighting over these things. All of Matthew's grandpas and his Uncle Jeff are as enamored with these as he is (well, almost). Recently we brought them with us to a friend's house, and her 20 year old son and his friend were practically drooling over them. They carried off with them and came back later with some 14-sided geometric shape that used all 32 pieces. You can get them on Amazon, from Magnatiles directly, or Lakeshore Learning sells them and allows you to use their 20% off coupon on them. There is a "
DX" Set
that has different shapes that are only available in this particular set. I am hoping to one day get that set for him. If you follow the company on twitter, they say they give away one set a month to a follower-I don't know when they did it last or if it is still current but it's still advertised.
Melissa and Doug Wooden Puzzles
Melissa and Doug Wooden Puzzles are great because their themes are timeless. They're not ridden with cartoon characters. They're well made. And they offer graduated steps. They offer big knobby ones for very little kids. The have big chunky pieces or smaller pegs for toddlers, and as you continue to graduate, they ultimately have traditional jigsaw puzzles. They're affordable and easy to find either second hand or at discount chains like Ross and TJ Maxx. Matthew has mastered the chunky ones (the two bottom ones shown) and when resources allow, we'll graduate him up to more difficult ones.
Musical Instruments
I don't have a specific product to recommend here because he pretty much likes instruments of all kinds. We have some that we've made. We have some that are plastic. We have others that are metal, and still more that are wooden. He loves them all. I even brought out the Little Tikes piano and xylophone baby toys because while he outgrew them as bang-on-them baby toys, he now uses them for actual music. We spend a lot of each day marching, singing, dancing, playing. I wish I had actual music talent to teach him, but so far he's happy.
Gymboree Bubbles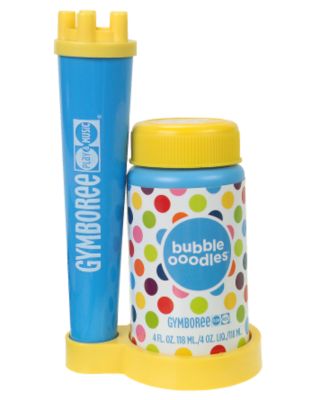 My sister in law once told me, "Don't mess with any other bubbles. Just buy the Gymboree ones." I thought she was exaggerating. Bubbles are bubbles, right? Nope, they're not, as we discovered when we went through 3 other bottles of bubbles at Grandma's house one day, trying to get them to make bubbles. The Gymboree bubbles are neat because they're made with glycerin instead of soap. The wand has two ends. They make oodles of little tiny bubbles out of one end, or bigger, traditional bubbles out of the other. And they're strong enough that the kids can catch them, or for them to land on the ground or other surfaces without popping. Matthew loves to run around the room and pop every single one he sees. You can buy the kits in Gymboree clothing and Gymboree Play and Music stores and you can also buy refill bottles once you have the wand. You can also get them at gymboree.com.
Leapfrog's My Pal Scout
In general, we like Leapfrog products. They're typically sweet, well made, and again, aren't adorned with cartoon characters or big-kid trends. We gave Scout to Matthew for his first birthday. At 2.5, Matthew still plays with Scout every day. Scout lives in his bed so Matthew plays with him before he falls to sleep and when he wakes up. Scout talks and sings about colors, letters, numbers, shapes, and animals. And you can sync him to your computer to personalize him with your child's name and favorite songs, food, color, and animal. There's a purple version called Violet if you prefer. Matthew talks and sings to and with Scout every day. Scout is his little buddy. It's so sweet to hear him over the baby monitor. And having Scout helps Matthew transition in or out of sleeping time slowly, which he very much seems to prefer.

There's our list for today at 2.5 years old!