Update on the babies: Still no update :( My cycle is still out of whack, though all the testing says there is no medical reason for it. The doctor's best guess is stress. We can't move forward with anything until this corrects itself. So these last couple weeks I haven't been hiding--just haven't had anything new to share-literally. So we're just in a waiting game. We can't even start talking dates until that happens.
But we did get away this weekend. We drove down to a U-Pick orchard in Southern Arizona. We got a little carried away and ended up with 60-75 pounds of Asian Pears and Apples. Guess we'll have plenty for cobblers, sauces, jams and breads! We also have plenty to share. Then we went to a U-Pick farm and we picked much more conservative amounts of fresh green beans (my favorite!), bell peppers, tomatoes, chilis, cucumbers, zucchinis and squash! I'm looking forward to putting it to good use. It was a long exhausting day though--the drive is just over 6 hours round trip, plus the time actually picking out in the sunshine. I was in bed by 9:00 last night! Today I made my first batch of apple sauce and I'll be making apple bread tomorrow.
Here are a few pictures from our day. I'd love to go down earlier in the season when there are more varieties of fruit left to pick. I'd also love to go in the spring when everything is blossoming and just walk the fragrant orchards!
Hope you all had a nice weekend!
My handsome hubby picking green beans
More green beans in front of us. Squash and eggplant behind us and maybe other things too?
Look at all those apple trees!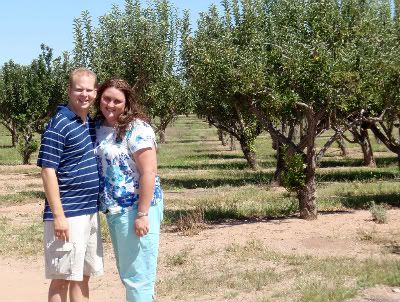 And big beautiful Asian pear trees behind us here